Help Page

Sight Adjustments
Sight adjustments are given in MOA, which stands for Minute Of Angle. Just how MOA is derived is shown by the following figure. The size of an MOA grows in proportion to distance. At 100 yards 1 MOA is 1.047 inches, at 200 yards 1 MOA is 2.09 inches, and so on.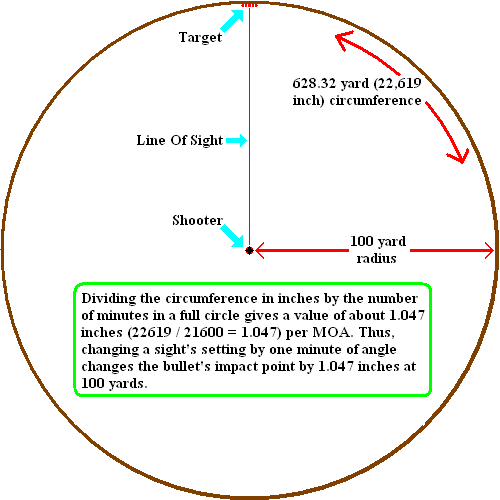 Ballistic Explorer uses standard web pages (html) for it's help system. These pages are installed on your hard drive along with the rest of the program, so you can view them when you are not on-line. These pages can be viewed with any browser, and thus, are compatible with all versions of Windows® supported by Ballistic Explorer, including Vista.
We have also posted all of Ballistic Explorer's help pages and tutorials on-line.

If you have specific questions about Ballistic Explorer you can contact us a support@dexadine.com