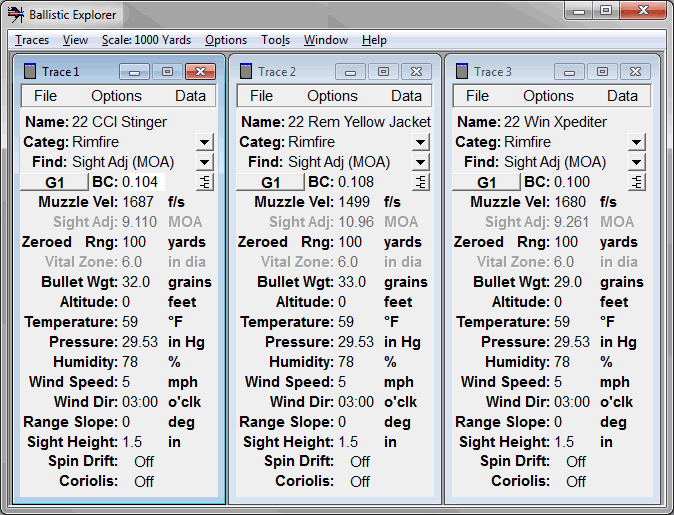 All three Trace windows were opened by clicking All traces in the Trace menu. Note that three different 22 Rimfire loads are in the three Trace windows, but other than Name, BC, Muzzle Vel., and Bullet Wgt. all of the other parameters are the same. So lets graph their downrange velocities.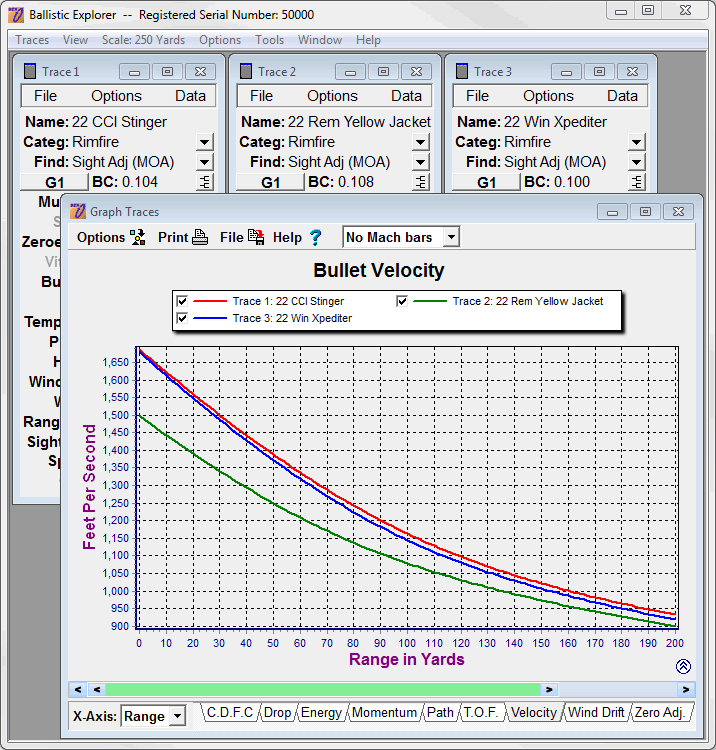 The three loads' downrange velocity were graphed by clicking View on the main menu and then Graph Traces. Calculations are done automatically whenever a display receives focus (is opened or clicked on).
You'll also note that the main window was made a bit bigger. The program makes good use of today's larger displays with 1280 x 1024 being able to display all the program's windows at once. Well, except the Explore display, which you can expand as large as you like.
Graphs are great for spotting trends, but then you need the actual numbers. That's the job of Examine traces.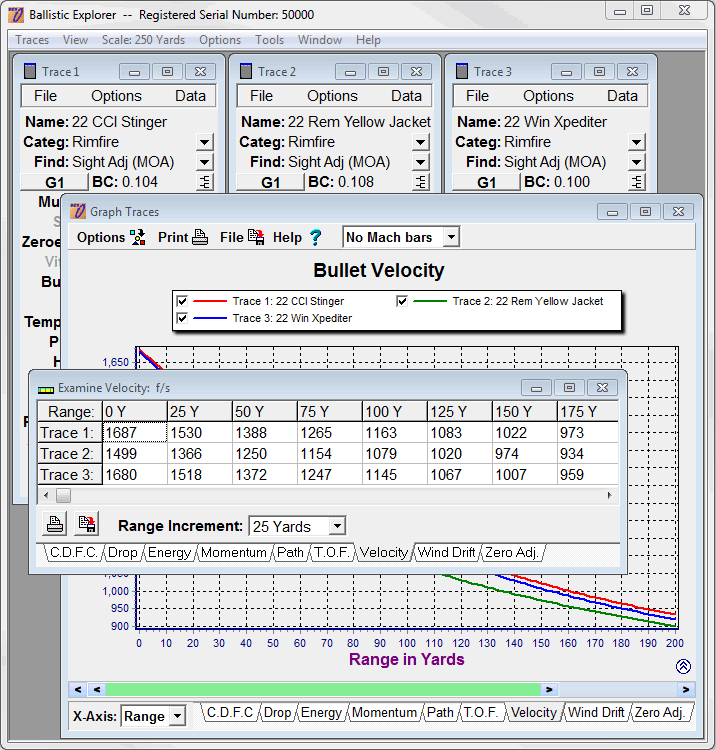 The three loads' downrange velocity values were displayed by clicking View on the menu and then Examine Traces. You can see from the tabs that other downrange data can be selected, such as Energy, Path, Wind Drift, etc.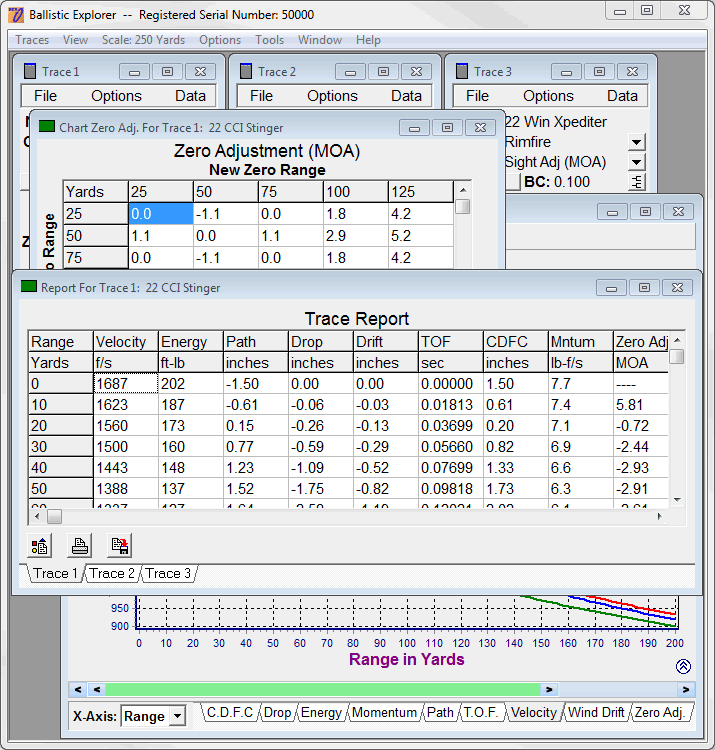 The same data in the Examine display can be viewed in a printer friendly format by clicking View on the main menu and then Report Traces. You can select the range increments, what columns display as well as their order. It's a good way to make your own tables for your shooting conditions and loads.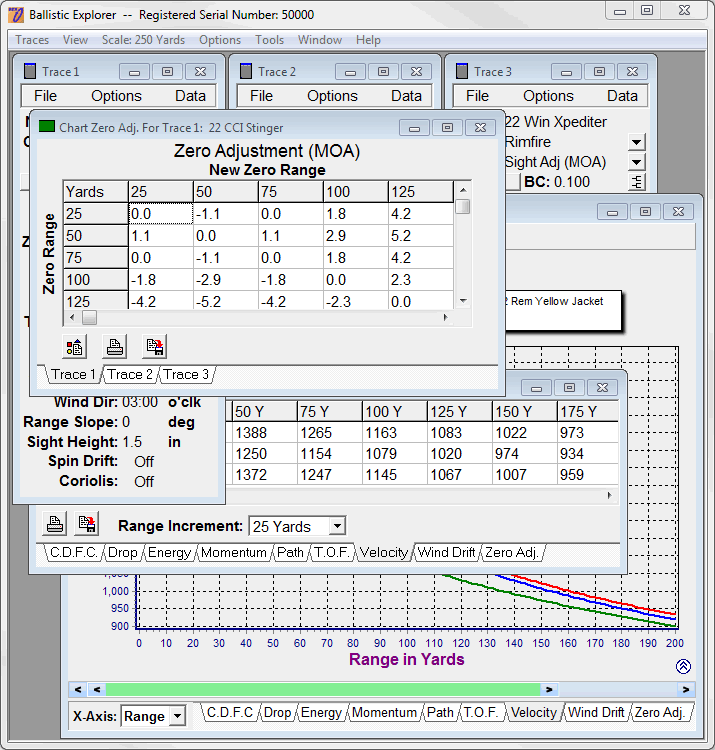 Click View on the main menu and then Chart Zero Adj. to open this unique display that shows you the sight adjustment change needed to change the zeroed range from one distance to another.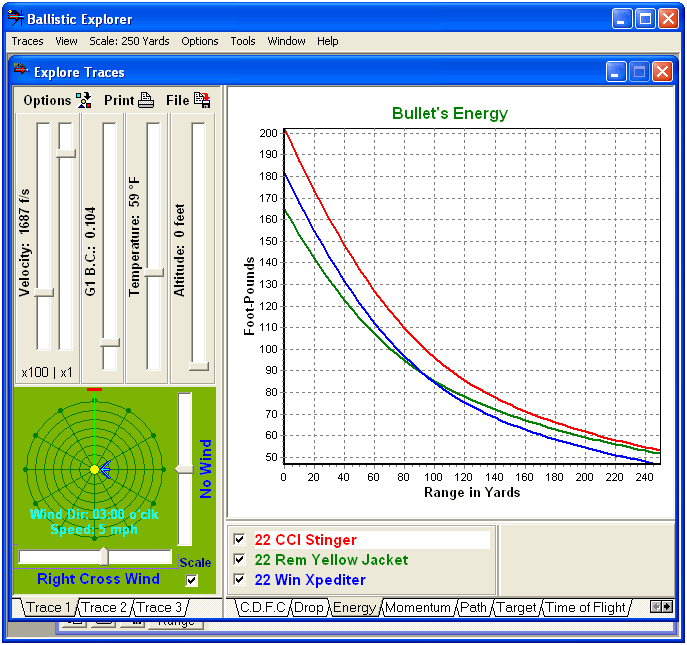 Click View on the main menu and then Explore Traces to open a window designed to let you solve problems unique to your situation and interests. Yes, we programmed Ballistic Explorer to solve all the standard problems automatically, but over many years of talking with customers we've learned that we can't anticipate all the kinds of problems shooters and hunters want to solve. While no one can program software to calculate unknown problems, we figured out how to create software that gives you the means to easily back into solutions. As with many of our features when they were first introduced, there's nothing else like the Explore display on the market.
Even if you don't expect to have much need to solve undefined problems, the Explore display gives you a second independent means of graphing. You can display velocity in the graph display and energy in the Explore display. There's also a Target tab that shows where the bullets will strike a target in various winds and conditions. Accuracy rings around the bullet strike points lets you visualize the random variation from shot to shot.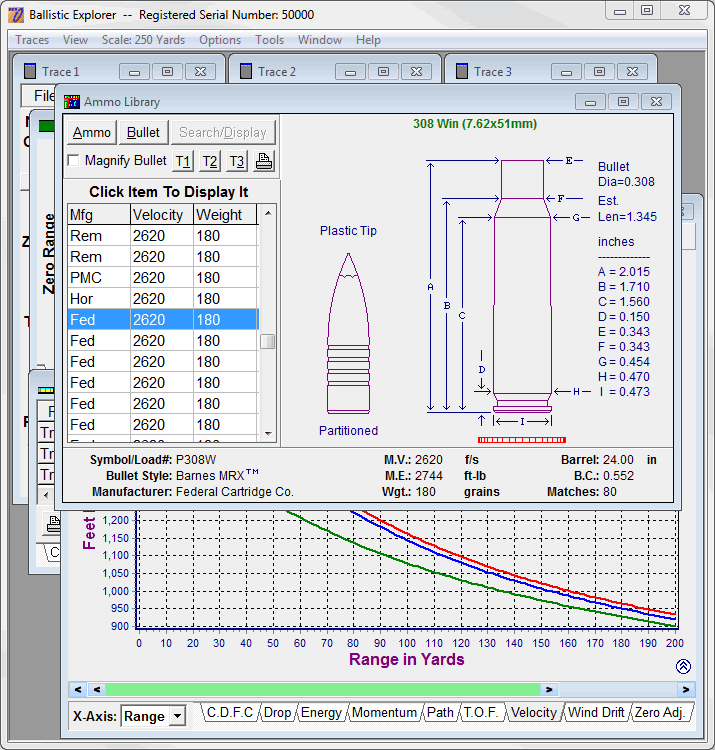 Click View on the main menu and then Ammo/Bullet Data to open the graphical database of over 3310 factory loads and over 2615 factory bullets. This is a true database that lets you find loads and bullets based on over a dozen search parameters. Once you find a load or bullet it's just a matter of clicking a button to transfer that data to any of the Trace windows that are open. Once the data is in the Trace window you can view all the downrange data for whatever conditions you set up.
That's it for the major components of the program. There's a lot more tools and options in the program that give you the best view of your ballistics data.