New!
Introducing The Drag Analyzer
Finally, a tool that lets you see bullet drag.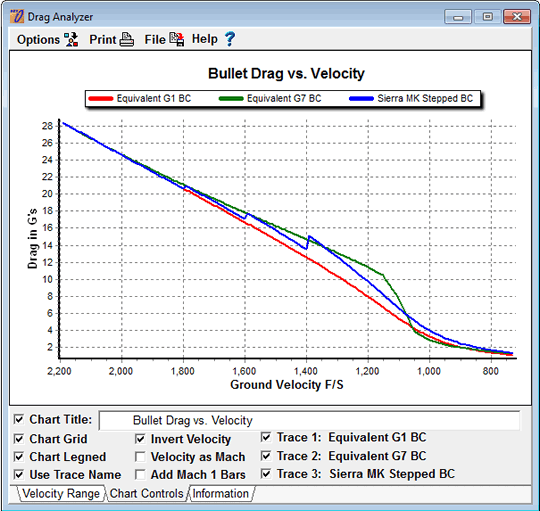 Shooter are being offered more and more G7 ballistic coefficients and custom drag functions, as well as multiple (stepped) BC values, but how do these compare? Unlike classic drag coefficient graphs, the Drag Analyzers shows you actual bullet drag versus velocity, and not just that of the drag function, but also that of the BC itself along with air density, speed of sound, head and tail winds. You get the full picture for the velocity range and conditions you select.
At a glance you are able to see how various drag functions differ, and in the case of custom and stepped BC values, which standard function they most closely match. In the example above you can see how the BC steps for the Sierra MK bullet correct G1 to better follow G7. In your own shooting you might find the easily caclulated G7 equivalent BC better matches your drop observations.