Import Trace Data
This tool is used to import traces from version 6.x.x and 5.x.x. trace files, or from the DOS version 4.xx of Ballistic Explorer into the current trace database file.
Click Tools on the main menu and then click Import trace data... to open the Import Trace Data dialog.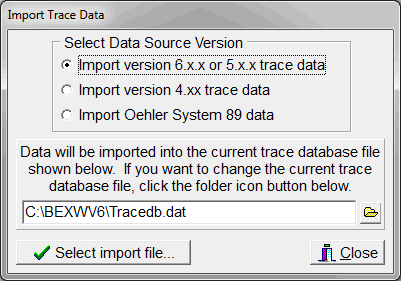 In the Select Data Source Version box, click the radio button that corresponds to the source file's version. The file's version is checked on import, so if you select the wrong version the program will issue a message and not import the data. The current trace file is also displayed to show you where the data will be saved to.
Click the Select import file... button to open the Select Trace Database File dialog box. This is a standard Windows® dialog box for locating and specifying a file. Once you have specified the file you want to import from, click OK. The program imports the traces in the specified file into the currently selected trace file, and issue a summary message showing the number of traces imported, the drive:path\name of the currently selected trace file, and the number of traces that were new. For imports from version 4.xx files, the category parameter of all of the imported traces is set to the file name of the imported file, such as "reload.dat". The category can be changed using the Change trace category tool.
When the program imports traces, it tries to locate a trace of the same name in the currently selected trace file and updates the matching trace with the data from the trace that's being imported. If there is no matching name, the imported trace is counted as a new trace in the summary message and it's added to the currently selected trace file.