The Bullet Stability and Twist Rate Calculator displays the twist rate and atmospheric density specified in the Trace from which it was opened along with the calculated gyroscopic stability factor (SG) and caption for those parameters.
Click the Twist Rate button to display a suggested twist rate, or the Apply button to apply the suggested twist rate to he Trace.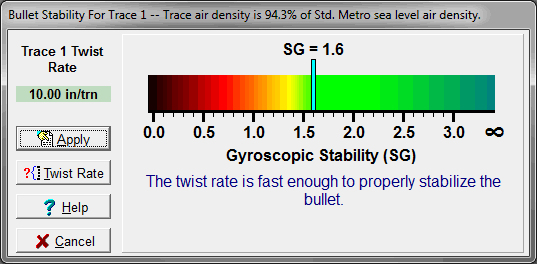 The Bullet Length Estimator displays the bullet diameter, weight and ballistic coefficient given in the Trace window from which it was opened.
To estimate the length of a bullet, select the bullet body type, tip type, and shape type from the drop down lists, and then click either the Estimate or the Apply button.